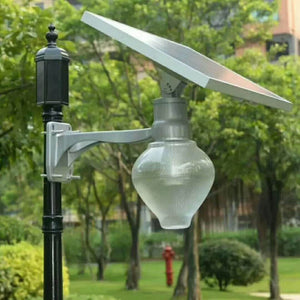 Solar Street Light 15 Watt Moon Series - TTSML15W
Regular price Rs. 11,999.00 Rs. 7,999.00
*
Order above Rs.3500 and get
FREE DELIVERY
.
* For Bulk Order & Best Discount Contact US.
Overview:
Model TTSML15W solar Moonlight kit comes with 25 Watt Solar Panel, 15 Watt LED with 1680 Lumens and 3.2 volts 24 AH LiFePO4 battery.  This Integrated solar street light has intelligent sensor control system with dusk to dawn feature that charges the battery and helps in switching the light on when darkness is detected and switches off at sunrise.  Solar Moonlight runs with 100% brightness for the first 4 hours and then works at a lower level of brightness.
This intelligent control regulates the brightness and ensures that there is sufficient illumination throughout the night.  Solar Moonlight can be operated using a remote control that has a handful of useful features.  The control functions include on/off as well as auto mode for dusk to dawn illumination.  During auto mode, the brightness may vary depending on the battery charge.  The timer can be set at 3, 5 or 8 hour modes and the light turns off automatically after the set time.
Solar Moonlight is elegantly beautiful in design and if placed at the correct location where the solar panel can receive maximum amount of sunlight, this light can brighten the area for the entire night.  The light can be easily fixed on a pole or a wall and adds beauty to the installed area with its cool white color.  Since the light is designed for outdoor use, the light is housed in durable metal and glass material with IP65 waterproofing.

Application:
Solar Moonlight can be used both as a street light and a garden light. This modern outdoor lighting is commonly used to illuminate streets and pathways, gated communities, parks, play areas, tourist spots, open-air restaurants, swimming pools, rooftop gardens, private yards, driveways and any public area.  This attractive landscape lighting system can bring a whole new dimension to any outdoor space.
Product Details:
Product Code: TTSML15W
Brand: Tapetum
Item Type: Outdoor Light
Product Color: Grey
Water Resistance IP Level: 65
2 Year Warranty.
 Product Features:
The light never turns OFF no matter how many rainy or cloudy days.
The light can be installed from Equator area to Polar region.
The Working temperature is -20 to 60 deg C
Integrated design, modular production and one screw installation.
2V, low voltage design. Safe and reliable.
The product is used with a high-efficiency LiFePO4 battery which is usually used for an electric bus.
Integrated package and convenient transportation. 
 Battery and Solar Panel: 
Solar Panel: 5.5V, 25W
Solar Panel Life span: 25 Years
Battery Type: LiFePO4
Battery Voltage: 3.2V
Battery Capacity: 24 Ah
Battery Life span: 8-12 Years
Charge Type: Solar
Charging Time: 8-12 Hours
Working Time: 1 Night
 LED Specifications:
LED Wattage: 15 W, 1680 LM
LED - Max Power: 15W 1680 Lumens
LED Chip Brand: Nichia
Led Lifetime: >50000 Hrs
Viewing Angle: 360°
Light Color and temperature: White, 2700-3300K
ON and OFF Switch: Automatic.
 Installation Condition:
Installation height is 5 Meters.
It can be installed on a Pole or a Wall.
 Design and Finishing:
Material - Body: Metal+Glass
Style: Modern, Elegant CUP Design.
Product Color: Grey
Warranty disclaimer
Tapetum India Solar offers Offsite warranty for all of the products, this warranty covers any functional defects for the warranty period.
During the warranty period, products or part of a product that proves defective will be repaired or replaced, at no charge.
Physical Damage/Any sort of tampering with the product is not covered under warranty.